Sold out in eight.
It seems we really hit the right note with our second Festival. According to the attendees, it was our best #mktfest to date. A lot of that credit goes to Avinash Kaushik, who wowed Czech marketers with an explosive keynote. His See, Think, Do, Care framework has since gained an enormous popularity in the Czech Republic – hardly a single client meeting goes by without a mention of it.
Our third year went like clockwork. But this whole time, I couldn't stop feeling that something was missing. New emotions. People got too used to Brno and the Janáček Theatre became just a familiar set piece for the Festival. That's why we moved house to Ostrava's industrial Gong hall in 2016.
Despite the change of location and adding nearly 500 more seats, the ticket sale took off with a breathtaking speed. Over 1.000 tickets were gone within the first 8 minutes.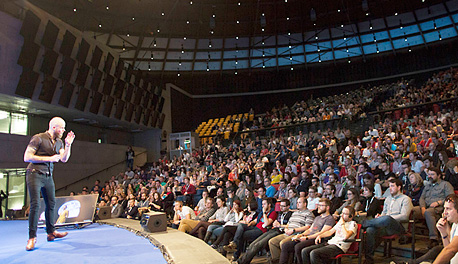 The Festival went relatively well but I wasn't satisfied. With some speakers for instance, I took the risk that their profound knowledge would balance their lack of public speaking experience. Unfortunately, that hasn't paid off. But one thought kept coming back with more and more urgency: tactics, tools and hacks aren't what brings most value to a marketer.
Stars and back to the roots
Ever since our first Festival, we're trying to bring practical know-how you can immediately boost your campaigns with after getting back to the office.
But marketers in the Czech Republic – especially our attendees – are already advanced enough, they know all the tweaks and tricks. Nowadays, what I see as much more important is the ability to think strategically and being able to view the entire discipline in context.
No worries though – we're not leaving tools and tactics behind. They will be an integral part of both the main agenda and workshops. But it's the ability to use these tactics in a much broader scheme that moves you up a few levels as a marketer. Not many people can claim to have these abilities, in fact, hardly anybody can.
This was a painful realization once we started building this year's lineup – getting 16 top speakers for two days of lectures has proved next to impossible without making a few compromises on the way. And as we didn't want to do that, we chose a new format: one day packed with speakers who have both profound knowledge in their field, and are also able to deliver a stunning lecture.